Il Monte Fuji è uno dei simboli del Giappone. Nelle giornate terse si può vedere sin da Tokyo, ma una delle location da cui ammirarlo al meglio (e quella raffigurata sulla banconota da 1000 yen) è la regione dei cinque laghi (富士五湖 Fujigoko).
Mount Fuji is one of the symbols of Japan. During clear days, you can see Mount Fuji from Tokyo, however one of the best viewing spots (and the one pictured on the 1000 yen bill) is the region of the Fuji Five Lakes (富士五湖 Fujigoko).
I cinque laghi si trovano a circa due ore di macchina da Tokyo e ci sono sembrati la destinazione perfetta per trascorrere qualche giorno della Golden Week (festa nazionale giapponese, tra la fine di Aprile e l'inizio di Maggio) al nostro ritorno da Austin. Abbiamo soggiornato allo Shoji Mount Hotel, un bell'albergo sulle rive del lago Shōji, il più piccolo dei cinque laghi.
The Fuji Five lakes are just about 2 hours from Tokyo and we spent a few days there during the Golden Week (national holiday in Japan, between the end of April and the beginning of May), as soon as we returned from Austin. We stayed at Shoji Mount Hotel, a nice hotel on Lake Shōji, the smallest of the five lakes.
Google Maps – Il monte Fuji circondato dai cinque laghi. Noi eravamo proprio sulle rive del lago Shoji / Mount Fuji surrounded by the Five Lakes
Shoji Mount Hotel dall'esterno, circondato dalle montagne e affacciato sul lago Shoji / Shoji Mount Hotel from outside, nested between the hills and facing Lake Shoji
La particolarità di quest'albergo è il fatto che tutte le stanze abbiano vista lago e Monte Fuji. Si può scegliere di soggiornare in stanze in stile occidentale(washitsu 和室)o in stile tradizionale (washitsu 和室). Le principali differenze consistono nel tipo di pavimento e nell'arredamento della stanza: nelle stanze tradizionali il pavimento è in tatami, si dorme per terra sui futon e gli ci sono porte di carta scorrevoli. Vengono fornite anche delle giacche da camera (hanten) e degli yukata, che si possono indossare quando si gira nell'albergo. Noi abbiamo deciso di optare per la stanza tradizionale, perché adoriamo entrambi il profumo del tatami e non ci dispiace dormire sui futon. L'albergo ha anche delle onsen (terme) per gli ospiti, che sono aperte 24 ore. È stata una vacanza all'insegna del relax, in parte anche dettato dagli orari degli autobus pubblici che ci riportavano all'albergo non più tardi delle 4.30 del pomeriggio.
What is very special about this hotel is the fact that all rooms have a view on the lake and on Mount Fuji. You can choose to stay in a Japanese style room (washitsu 和室) or in a Western style room (washitsu 和室). The main differences between these two types of rooms are in the flooring and furniture: the washitsu has tatami floor, you sleep on the floor on a futon and the wardrobe has sliding paper doors. You are also given a hanten, a short winter coat to wear in the room, and a yukata, to wear around the hotel. We stayed in a traditional Japanese room, as we love the smell of tatami and we don't mind sleeping on futons. The hotel also has onsen, which are opened 24/7. It has been a very relaxing holiday, and this was also due to the fact that we spent all of the evenings in the hotel as the last bus was taking us to Lake Shōji at 4.30.
Una fotografia non troppo riuscita del soggiorno della nostra stanza, completa di tavolo e sedie basse / A pretty dark picture of our living room, with the low table and chairs
Abbiamo provato anche il ristorante dell'albergo, dove abbiamo cenato praticamente ogni sera perché intorno al lago ci sono solamente un paio di alberghi. Questa è una foto di una delle nostre deliziose cene. Antonio ha ordinato il set menu, completo di sashimi, zuppa houtou (che si stava cucinando sulla sinistra), e addirittura un blocchetto di quello che poi abbiamo scoperto essere gorgonzola! Io invece ho optato per dei pesci di lago fritti, accompagnati da zuppa di miso, insalata di alghe, riso e frutta. Adoro come i menu giapponesi includano piccole porzioni di diversi alimenti, creando pasto bilanciato e vario, ma non pesante (nonostante la frittura).
We also ate at the hotel restaurant, as there were only hotels around the lake. This one below is a picture of one of our delicious dinners. Antonio had the set menu, with sashimi, houtou soup and what we then learnt was gorgonzola (Antonio hates cheese). I had some fried lake fish, miso soup, seaweed salad, rice and fruit. I really like this type of Japanese meal as you have small portions of many different dishes, which gives you a balanced but not rich meal.
Cucinando l'houtou / Cooking the houtou
Cosa vedere e come spostarsi
Da questo blog post parrebbe che siamo rimasti in albergo per 3 giorni 🙂 Invece no, abbiamo visto tre dei cinque laghi, visitato la pagoda Chureito, da cui si può godere di una delle viste più famose del Giappone, e il museo all'aperto Iyashi no Sato. Il lago meglio connesso, sia con Tokyo che con il resto dei laghi, è il Kawaguchiko, dove c'è anche il capolinea degli autobus della linea Retro Bus / Omni Bus, che sono stati il nostro principale mezzo di trasporto.
Ci sono tre linee: la rossa è quella più frequente (ogni 15 minuti) e fa il giro della zona settentrionale del Kawaguchiko, la verde passa ogni mezz'ora e copre il lato sud del Kawaguchiko e il lago Saito, mentre la linea blu passa ogni due ore e porta fino al lago Shōji. Il biglietto di sola andata dalla stazione di Kawaguchiko fino al nostro albergo sul lago Shōji costava 1050 yen (circa 8 euro), per un viaggio di 40 minuti, ma abbiamo acquistato il pass per due giorni per 1500 yen (circa 12 euro).
By reading this blog, you would think we stayed in the hotel for the whole vacation! 🙂 During the course of 3 days, we visited three of the five lakes, the Chureito Pagoda, which is famous for one of the most iconic views of Mount Fuji, and the open air museum Iyashi no Sato. The center of everything was Lake Kawaguchiko, where the main station and the bus terminal is. We used the Retro Bus / Omni Bus line to travel around the lakes.
There are three lines: the red line is the most frequent one (every 15 minutes), and it goes across the northern and eastern sides of Kawaguchiko, the green line is every 30 minutes and covers the south side of Kawaguchiko and Saito lake. Our line, the blue line, is every two hours and goes all the way to Lake Shōji. The one way ticket from Kawaguchiko station was 1050 yen, so we recommend to do their two day pass which is only 1500 yen per person and can be used on any of their buses.
Il carinissimo autobus della linea rossa / The very cute red line bus
Kawaguchiko
Il lago Kawaguchiko è il lago con la vista migliore del Monte Fuji. Quando il cielo è sereno e non c'è vento, dalle coste nord di questo lago si può vedere il Monte Fuji riflettersi nell'acqua. Noi siamo stati un po' sfortunati con il clima e questa è la migliore foto che ci è riuscita del Kawaguchiko… come potete notare c'era un po' di vento!
Kawaguchiko is the lake with the best view of Mount Fuji. On clear days, you can see Mount Fuji reflecting on the water from the northern shores of this lake. We were a bit unlucky with the weather unfortunately, so this is our best picture of Kawaguchiko…you can certainly notice it was windy!
Kawaguchiko in una giornata ventosa / A windy Kawaguchiko
Un tombino lungo le rive del lago / A sewer cover near the lake, so pretty!
Ci sono moltissime attività in questa piccola cittadina, tra cui le terme, il museo Kubota Itchiku (museo di kimono), il Kawaguchiko Music Forest, un museo dedicato agli strumenti musicali automatici, come carillon e organi meccanici, e il parco divertimenti Fuji Q Highland, in cui si può andare sulle montagne russe godendosi la vista del Monte Fuji.
There is really a lot to do in this little town: onsen, the Kubota Itchiku Museum (dedicated to kimono), the Kawaguchiko Music Forest, a small theme park and museum devoted to automatic musical instruments such as antique music boxes, the amusement park Fuji Q Highland, where you can ride a rollercoaster with this spectacular view: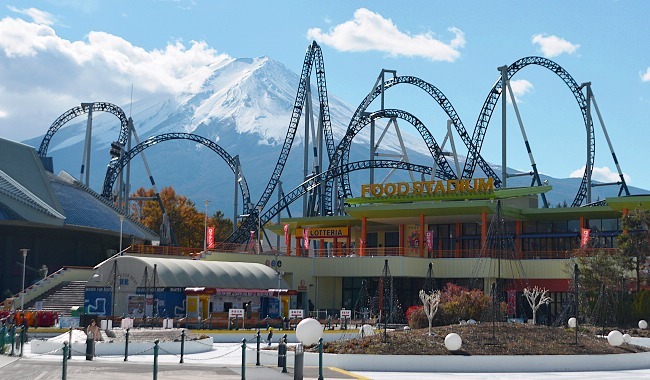 Fuji Q Highland – Fonte
Abbiamo provato il ristorante di fronte alla stazione di Kawaguchiko, Houtou Fudou, e ci sentiamo di consigliarlo a chi visiterà i Cinque Laghi. Questo ristorante è famoso per una delle specialità locali, l'houtou, una zuppa di miso con noodle e verdure, tra cui zucca, funghi e cavolo cinese. Viene servito in pentole di ferro e le porzioni sono molto abbondanti. Anche il locale è molto tradizionale, e come in molti ristoranti giapponesi ci si siede per terra.
We can recommend a restaurant near the station: Houtou Fudou. It's famous for one of the local dishes, houtou, which is a miso based soup with noodles and vegetables (pumpkin, mushroom, Chinese cabbage). Houtou is served in iron pots and the portions are quite big, so it's good value for money. The restaurant is also very pretty, and like traditional Japanese restaurants you sit on the floor.
Il mio houtou. Notare la saliera a forma di monte Fuji sulla destra… kawaii! / My houtou…and the super pretty Fuji shaped salt shaker
Houtou Fudou
Shōji-ko
Il lago Shōji è stato il nostro preferito, piccolo e vivace, e proprio fuori dalla porta di casa! Questo lago è stato creato dalle colate laviche derivate dalle eruzioni del Monte Fuji, ed è ancora oggi connesso da corsi d'acqua sotterranei con altri due dei cinque laghi: il lago Sai-ko e il lago Mototsu. Abbiamo molte foto di questo lago, ma questa è decisamente la mia preferita, scattata intorno alle 7 del mattino. Questo lago è molto frequentato dagli amanti delle attività all'aria aperta: campeggio, hiking, pesca e leggevamo anche di chi va al lago Shōji per fare sci d'acqua!
Shōji-ko has been our favourite lake, small and lively, and just outside our doorstep! This lake was formed by Mount Fuji lava flows, and it is still connected to the other two lakes (Sai-ko and Mototsu) by underground rivers. We have lots of pictures of this lake, but the one below is my favourite, taken around 7am. There are a lot of outdoor activities you can do at this lake: camping, hiking, fishing and we even read you can water ski at Lake Shōji.
Il premio per la tenda meglio piantata va a… / And the prize for creating camping goes to…
Pagoda Chureito
La Pagoda Chureito fa parte del tempio Arakura Sengen ed è stata costruita nel 1963. La vista dalla cima della collina su cui sorge questa pagoda è una delle viste più iconiche del Giappone. Gli alberi che circondano la pagoda sono alberi di ciliegio, quindi il paesaggio si tinge di rosa a inizio Aprile. La pagoda si raggiunge in treno dalla stazione di Kawaguchiko. Al ritorno abbiamo avuto anche occasione di ammirare questo fantastico treno con la mascotte del Monte Fuji!
Chureito Pagoda is part of the shrine Arakura Sengen and it was built in 1963. The view from the hill where the pagoda has been built is one of Japan's most iconic views. The trees around the pagoda are cherry trees and they look spectacular during cherry blossom season. There is a train from Kawaguchi-ko station that takes you to the shrine. Going back to Kawaguchi-ko station, we saw this amazing train with the mascotte for Mount Fuji!
Chi non vorrebbe viaggiare su questo treno? / Who wouldn't want to ride this train?
Iyashi no Sato
Iyashi no Sato è un museo a cielo aperto che sorge su ciò che rimane di un villaggio agricolo che fu travolto da un'alluvione nel 1966. Il villaggio è stata ricostruito, incluse le 20 case con i tetti di paglia, che sono state convertite in negozi in cui vengono creati e venduti prodotti dell'artigianato locale. Ognuno dei negozi si specializza in un'attività particolare: incenso, terracotta, abiti tradizionali che possono anche essere noleggiati dai visitatori, prodotti in seta, illustrazioni. Il villaggio era anche stato addobbato con le carpe fluttuanti multicolori, per celebrare il Giorno del Bambino (5 Maggio).
Iyashi no Sato is an open air museum that stands on the site of a farmers village that was destroyed by a typhoon in 1966. The village has been rebuilt and it is made of 20 thatched roofed houses, which have now been converted into shops that showcase the local handicrafts. Every shop is specialised in one product: there is one that sells incense, pottery, traditional clothes, which can be rented by the visitors, silk product or illustrations. The village was also decorated with streaming carps, to celebrate the Children's Day (5 May).
La cava del vento e la cava del ghiaccio
Nella zona tra il lago Saiko e il lago Shōji si possono visitare tre cave, formate dalle eruzioni del monte Fuji e ora accessibili al pubblico. L'ingresso per ogni cava costa 300 yen, circa 2 euro, quindi abbiamo deciso di provare a esplorarne un paio. La cava del vento veniva usata come frigorifero in passato, per conservare le ghiande e i bozzoli dei bachi da seta. Questa cava è abbastanza facile da affrontare e non è molto emozionante.
There are three caves between lake Saiko and lake Shōji. These have been formed by past eruptions of Mount Fuji and are now accessible to the public. The ticket for each cave is 300 yen, around £2, so we decided to explore a couple of them. The wind cave is the least exciting of the three caves and it was used to store acorns and silk cocoons as it has a temperature of 0 degrees all year long.
Un Monte Fuji fatto di fiori / A Mount Fuji made of flowers
Lava nella cava del vento / The lava in the wind cave
La cava del ghiaccio è stata un po' più tosta, devo ammetterlo. Questa è la piantina che si trova all'esterno: traducendo il primo pezzo è divertente, poi diventa bassa e stretta, poi diventa pericolosa, poi un inferno, poi si rischia di scivolare e ne si esce molto stanchi. La parte bassa e stretta è veramente bassa e stretta, e bisogna munirsi di elmetto prima di entrare.
I have to admit, the ice cave was a bit scary as some sections are very low and narrow. This is the map that you find at the entrance of the cave…very funny! You will need to wear a helmet for safety and maybe a sweater too as it's very cold in the cave.
---
Ci siamo divertiti molto nella zona dei cinque laghi, e stiamo pensando di tornarci per visitare gli altri due laghi che non siamo riusciti a vedere… e questa volta noleggeremo un'auto perché l'autobus limita molto, specialmente se si pernotta in uno dei laghi che non sono ben collegati. Siete mai stati ai Cinque Laghi? Cosa vi è piaciuto di più e ci consigliereste qualcosa in particolare per la nostra prossima visita?
We really had fun at the Fuji Five Lakes and we are thinking about going back to visit the two lakes we didn't get the chance to see…and next time we will definitely rent a car as the bus' timetable really limits what you can see, especially if you are staying near one of the smaller lakes. Have you ever been to the Fuji Five Lakes? What did you like the most and what else would you recommend to us for our next visit?